---
Pruksa prepares to launch "Plum Condo Chaengwattana Station"
29 March 2016 4:06 PM
---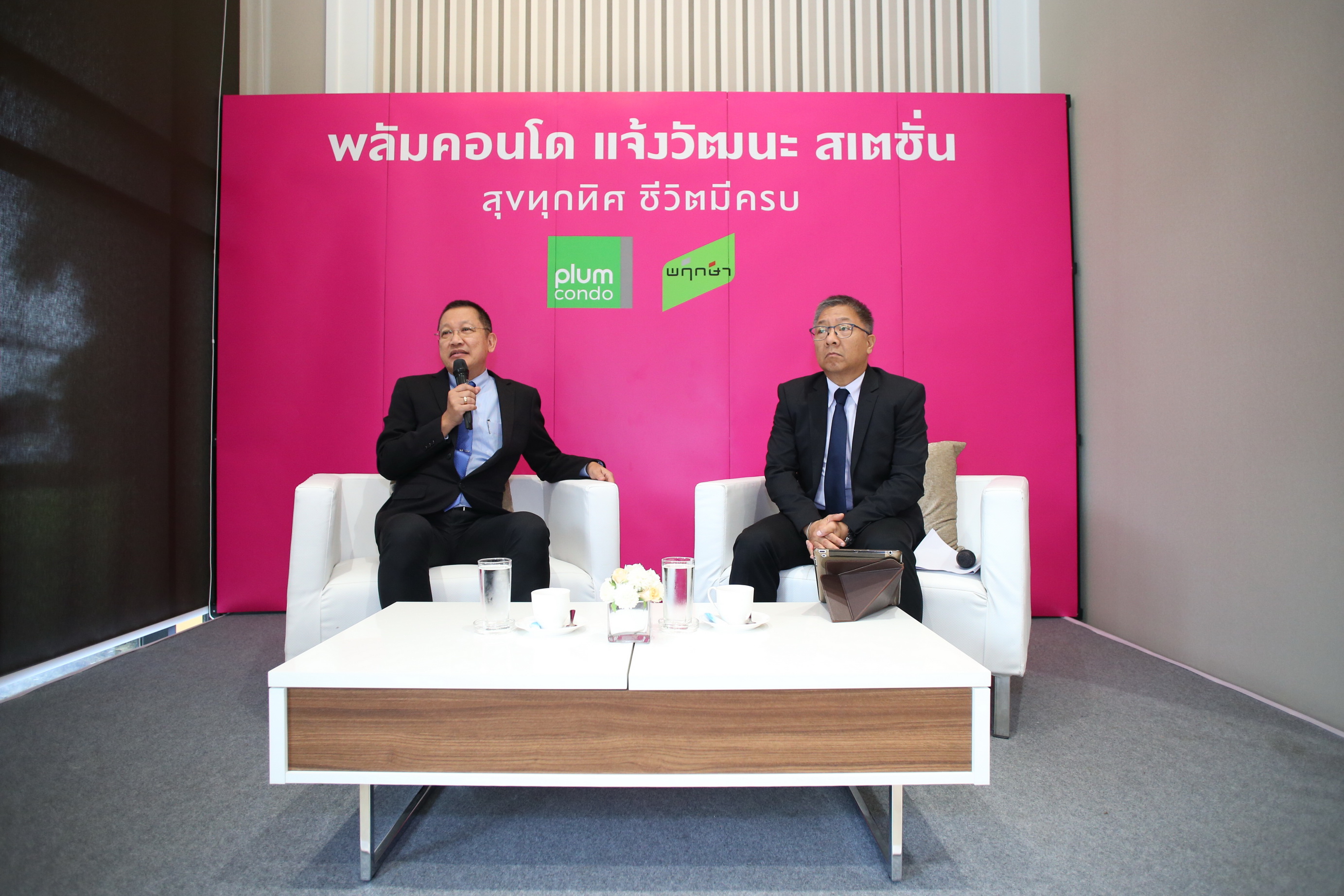 - March 29, 2016 - Pruksa Real Estate just bought best spot for "Plum Condo Chaengwattana Station" locating next to Chaengwattana main road, and close to 3 lines of sky trains with full facilities for reliable price. Starting from Baht 990,000, and starting booking on April 2, 2016.
Mr. Lersuk Chuladesa, CO – Chief Executive Officer, stated that the Company will launch a new condominium project "Plum Condo Chaengwattana Station" to support the demand in this area which is close to major places including government office, Don Muang Airport, educational institutions, and several shopping malls. The target group of customers are lower – middle group of customers. The starting price is Baht 990,000, and this project is close to 3 lines of sky trains. The front side of the project, next to Chaengwattana road, is close to MRT Pink Line (Nonthaburi Government Center - Min Buri), another side, next to Viphavadi road, is close to MRT Red Line (Bang Sue – Rangsit), and the last side, next to Phahonyothin road, is close to MRT Green Line (Mo Chit – Sapanmai – Khu Khot) which will be one of the important Interchange of Bangkok in the future. This will be very comfortable and convenient for customers because there are many entrances and exits of the project such as Chaengwattana road, Phahonyothin road, and Viphavadi road.
"Plum Condo Chaengwattana Station" was designed by the architectural concept blending with contemporary French style. The project is shaded by trees which are reflecting the image of the residents who have a passion like no others along with full facilities. The Company also specializes in the development of housing for more than 23 years, especially the "Plum Condo" which was launched for up to 12 projects on various locations. These factors make "Plum Condo Chaengwattana Station" to be worth the price and outstanding than other projects. This project is one of all projects that the Company proudly present to those interested in this year 2016".
"Plum Condo Chaengwattana Station" was designed under the concept of "Happiness is all around and live happily". The project was developed to be an 8-storey building (Low Rise) of 3 buildings on the approximate 6 acres of land equivalents to 809 units which consists of 804 rooms. The rooms can be divided into 2 types of rooms which are one bedroom type and a combine type. The first type, there is one bedroom, and the space is approximate 22.5- 26.0 sq.m. However, for the two units together (combine) type, the space is approximate 45 sq.m. Moreover, there are 5 units of shops with full facilities within the project including Pavilion together with a park, BBQ area, a pool, a children's pool, Fitness and Health Station, or for a healthy lover, there is a Jogging Track to make you feel the fresh air in the rooftop garden. In addition, there are also a library providing free Wifi, and games room to enhance the children's learning development.
"Plum Condo Chaengwattana Station" is currently opened for those interested to view a sample and register for receiving a discount. The booking will be opened on Saturday, April 2, 2016 at the Sale office of the project. For customers who are participating in this event, will be eligible to win a gold necklace and gift vouchers every week, and for customers who are booking in this event, will be eligible to win a Suzuki Swift and many other prizes equivalent to more than Baht one million. For more information, please kindly call 1739 or visit plum.pruksa.com.
---