---
Pruksa Real Estate achieves splendid revenues in first half
18 August 2016 9:57 AM
---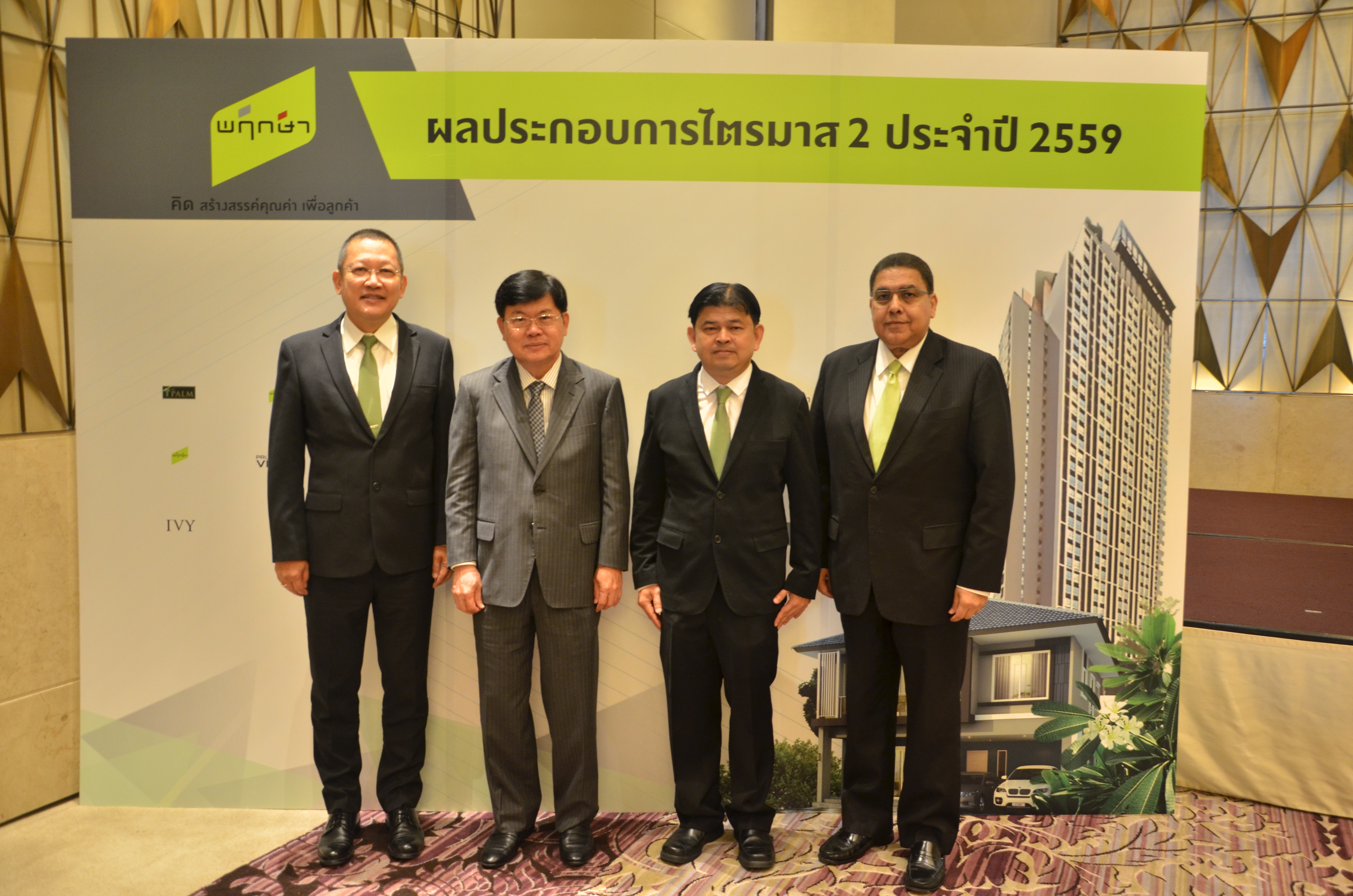 August 15, 2016 – Pruksa Real Estate Plc, a leading real estate developer in Thailand, achieved increasing revenues and profits in the first half of 2016, expecting to announce the launch of 33-38 new residential projects valued around Bt30,400-Bt34,400 million in the remaining months of the year.
Mr. Thongma Vijitpongpun, Chairman of Executive Committee and Chief Executive Officer of Pruksa Real Estate Plc, disclosed the company has successfully maintained its overall market share at 11.5% while continuing to dominate the townhouse segment at 30.3% during the first half of 2016. Pruksa Real Estate posted a strong revenue growth of Bt23,888 million from sales of real estate, a rise of 9.7%, compared to Bt21,766 million achieved during the same period of the previous year. The company also provided details on its maximizing net profits of 2.6% to Bt3,139 million, shifting from Bt3,059 million generated in 2015. Obviously, the magnificent first-half revenue was resulted from the transfers of the company's condominium, namely Plum Condo Phaholyothin 89, Plum Condo Park Rangsit, Fuse Condo Chan-Sathorn, and Fuse Miti Sutthisan-Rtachada, as well as the growing transfer of townhouses, marking remarkable growth of 39.7% and 4.4%, respectively.
"This year, the overall real estate market has been estimated to possess a total value of Bt383,183 million, rising 8% from Bt354,799 million achieved in 2015. It is expected that an approximate number of 217,719 people will demand for new residences and 106,204 residential units are anticipated to be sold, thanks to the progress of the government's infrastructure projects and the official opening of the MRT Purple Line in August," said Mr. Vijitpongpun.
Mr. Lersuk Chuladesa, Vice Chairman of Executive Committee, Co-Chief Executive Officer, and Director of Pruksa Real Estate Plc, added that the company achieved Bt21,635 million in sales during the first six months of 2016, with the introduction of 27 residential projects valued Bt19,641 million in total.
In the second half of the year, there will be another 33-38 residential projects worth Bt30,400-Bt34,400 million launched to demonstrate the company's leadership of the residential property market. Recently, Pruksa Real Estate has announced the debut of two of its brand-new condominium project 'Plum Condo Series Station', situated in Bangkok's Ramkhamhaeng and Pinklao areas, which are valued around Bt5,000 million in total. Until June 2016, as the company's total sales backlog remains at Bt23,685 million, the sales backlog, which is expected to become this year revenue, is Bt11,155 million, while 168 active projects worth Bt76,084 million are still in progress. Besides, to support the next chapter of growth, the company has determined to promote its new marketing campaign 'Pruksa Non-Stop' to provide people with a greater opportunity to own a residence. Ending on September 30, the campaign is strategically launched to satisfy the growing demand for homes, particularly low-rise residences. To foster further achievement, the real estate giant has set its sight to achieve Bt53,000 million in revenues and Bt51,000 million in sales by the end of this year.
---