---
Pruksa opened a "green" house factory in Thailand showing the global standard precast technology.
27 November 2014 6:08 PM
---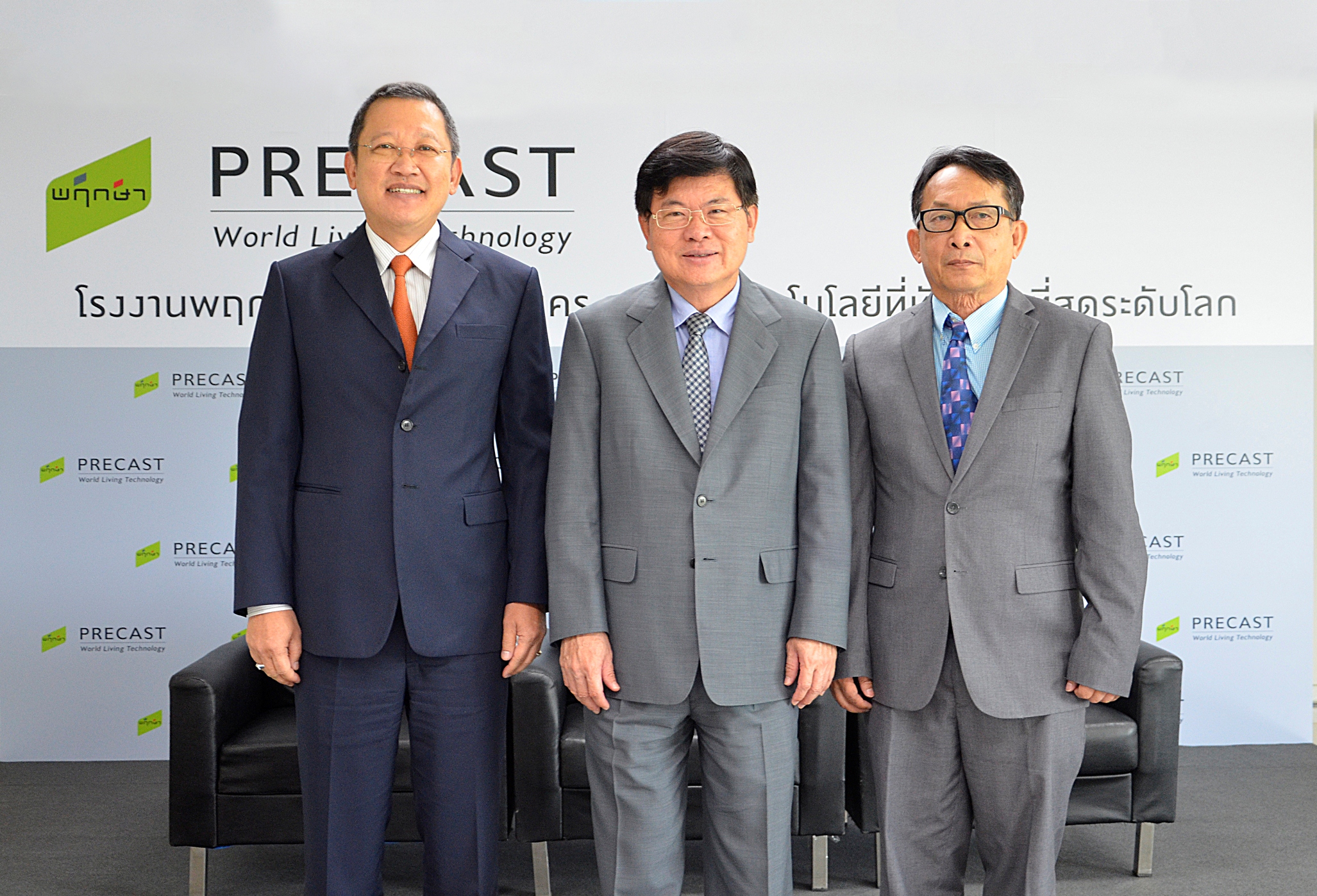 Pruksa Real Estate started its production of prebuilt ferro-concrete parts at the new Pruksa Precast factory in Nawa Nakorn area, utilizing the best precast technology from Germany to deliver quality houses to its customers.
Mr. Thongma Vijitpongpun, Chief Executive Officer and President of Pruksa Real Estate Public Company Limited ("Pruksa"), revealed that in order to support the participation in ASEAN Economic Community (AEC) and investment in transportation infrastructure of Thailand, which will help expand the economy and bring about more diversification of residences, the Company invested 2,300 MB to construct two new Pruksa Precast factories in Nawa Nakorn area. The construction has been completed by 80% as of today. The two factories will manufacture pre-built ferro-concrete parts to be integrated in the house built by Pruksa. Having started some of their production lines in September, the factories have production capacities of 480 houses per month. When combined with the existing capacities in the 5 factories in Lam-Lukka of 640 houses per month, the total prebuilt capacity will become 1,120 houses per month. Higher capacity supports Pruksa's plan to launch new projects and the plan to deliver more quality houses to customers, which has been rising each year.
"Placing high value on quality improvement of the house delivered to customers, Pruksa is determined to continuously create innovations. In 2002, the Company started using Pruksa Precast technology in the production of horizontal residence. Later in 2012, the Company invented Pruksa Real Estate Manufacturing, a manufacturing-like house building system, and in 2014, it started installing prebuilt restrooms in condominiums with eight or fewer floors. Pruksa Innovation Center is responsible for generating new innovations in the areas of building process, materials, and methodologies. This is to make houses, which is one of the basic human needs, to be quality houses surrounded by quality environment following the Company's policy that has been maintained for more than 21 years of being in the business."
Mr. Lersuk Chuladesa, Chief Operating Officer/ Acting Managing Director - Supply Chain, stated that "The new Pruksa Precast factory in Nawa Nakorn is the first Thailnd's "Green Factory", which applies the newest technology and machinery from Germany that can significantly reduce noise, dust, and waste water. The factory utilizes robots controlled by computers in the production process to reduce labor scarcity problem and maintain higher production standards. In addition, it uses Concrete Recycling System to recycle waste water and concrete waste in the production process, reducing material waste and promoting environmental friendliness
Now the Company uses Pruksa Precast Technology to produce prebuilt ferro-concrete parts that are used in the construction of single detached houses, townhouses, and low-rise and high-rise condominiums. Furthermore, it installs prebuilt restrooms that are molded from the factory in some condominiums and is planning to use prebuilt restrooms in townhouse and single houses in the future. The use of prebuilt restrooms will solve the problem of leaking water and promotes maintenance ease. We can reassure our customers that they will definitely be given the quality houses from Pruksa."
---