---
Pruksa Real Estate Proudly Presents Soaring 1Q15 Sales Volume of 12,761 Million Baht
15 May 2015 5:44 PM
---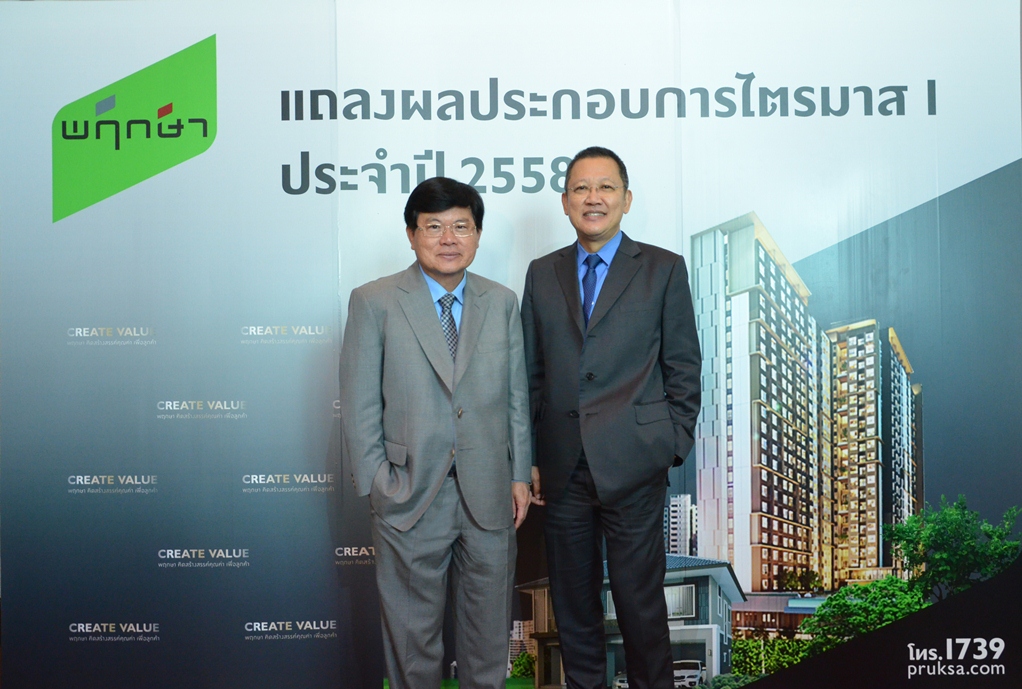 Mr. Thongma Vijitpongpun, Chief Executive Officer and President, Pruksa Real Estate Plc, announced 1Q15 earnings that, "the Company has witnessed a continuous growth with the sales volume of 12,761 million Baht, a 64.5% increase QoQ with the sales volume of 7,759 million Baht and the incoming revenue of 8,303 million Baht, a 3.7% increase compared to the same time in the previous year, whereby the incoming revenue was 8,009 million Baht and the net profit was 891 million Baht."
"The Company's main source of revenue in the first quarter comes from products in the townhouse range, accounting for 57%, single-detached house for 29%, condominium for 13% and overseas projects for 1%. The success is contributed from customers who are truly in need of accommodations, allowing the Company's operating performance to grow. The Company's market share currently accounts for 15%, a slight increase from the end of last year when the market share was only 13%. The proportion of the market share has increased in all types of products in the range; townhouse, single-detached house and condominium. More efforts have been made to target upper-level customers through the expansion of the premium single-detached house and condominium markets", said Mr. Thongma.
Meanwhile, Mr. Lersuk Chuladesa, Vice Chairman of Executive Committee and Director, Pruksa Real Estate Plc, stated that, "the sales volume in 1Q15 is 12,761 million Baht, and accounts for 27.2% of the whole year's target of 47,000 million Baht. With this, we are quite confident that the overall performance this year will exceed the target. In the upcoming 2Q15, the Company plans to launch around 11-13 new projects, with the total worth of 9,000-11,000 million Baht. Furthermore, there is approximately 38,681 million Baht in the backlog, of which 23,616 million Baht will be realized this year. As the trends suggested that customers' confidence is likely going to get better, coupled with a positive factor regarding the lower interest policy rate regulated by the Monetary Policy Committee (MPC) which is expected to stimulate purchasing power, it is anticipated that the overall real estate market this year is likely to recuperate from its condition in the previous year."
"It is part of the Company's policies and determination to capitalize our efforts in creating values for customers; therefore we have employed a lot of innovative construction technology to constantly improve our processes, such as Pruksa Precast Technology and Pruksa REM (Pruksa Real Estate Manufacturing). These tools have eased previously complicated construction processes to be more steps-oriented. Each step is taken charge of by skilled and experienced technicians who possess expertise in their areas. This has enabled Pruksa to deliver quality and standard that ultimately leads to customer satisfaction which is a way to sustainable growth for the Company", said Mr. Lersuk.
---