---
Pruksa Real Estate launches "The Privacy", low-rise exclusive condo which enables the residents to e
25 July 2013 12:00 AM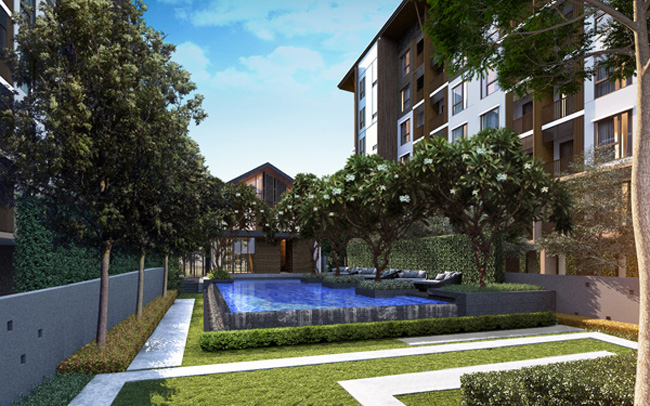 Pruksa Real Estate enters the low-rise condo segment by launching The Privacy under the concept "Indulge in the private moment at home". Only 78 units are available with the starting price of Bt1.49 million.
Mr. Virasak Kaewnoo, Chief Business Officer, New Business Unit, Pruksa Real Estate PCL, said, "The company has planned to develop small-scale low rise condo which enhances the privacy of the residents. The project is surrounded by serenity of the nature and full modern facilities for urban living. The Privacy offers a new alternative which is different from other condo projects along the route of mass transit because it targets the medium-end customers who look for residence in prime location with affordable price.
Presales are available on 28 July. "The Privacy" is a 7-storey condo to boost the lazy ambience for the residents. It is like a "home" in the center of the busy city with "Green Concept Design" to maximize the functionality to fit the unique lifestyle of the dwellers. The transparent feel is enhanced by 2.65-meter height of the ceiling. The interior decoration pays attention to every detail including the bedroom, the living room and the bathroom. The environmentally-friendly design allows the natural light into the condo to promote air flow and reduce humidity.
With only 13 units per floor, The Privacy offers the retreat space at the best location in the center of the city. Full facilities complete the urban living, including Approach Garden, botanicals in the front yard, Living Pavilion, cozy living room with the swimming pool view, Privacy Library, high-ceiling fitness loft and backyard corner for chill-out party. The project is located in Soi Ngamwongwan 18, only 300 meters from The Mall Ngamwongwan and within the proximity of many facilities such as Tesco Lotus, Homepro, Nonthavej Hospital, Dhurakij Pundit University and exit-entry point of the expressway which allows the residents to reach the city center within a few minutes.
The Privacy opens pre-sales on 28 July with the mock-up unit available at Richmond Hotel. Make the reservation and receive special promotion worth Bt110,000 at www.theprivacycondo.comfrom today. More information is available at tel. 1739 or www.pruksa.com.
*The conditions are as stipulated by the company.