---
Pruksa Real Estate aims to become No. 1 for customers and top 10 in Asia
16 July 2013 12:00 AM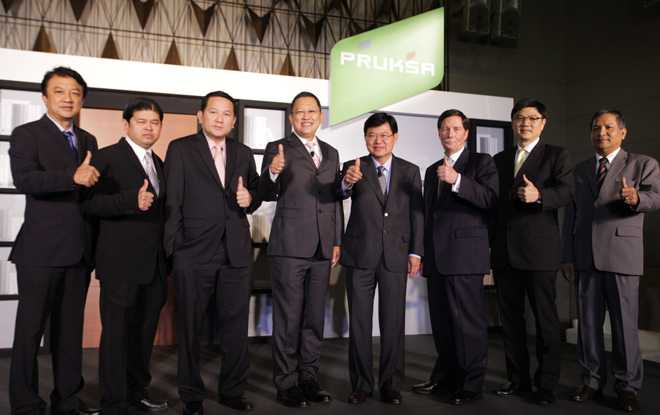 Pruksa Real Estate aims to become No. 1 for customers and Top Ten in Asia, announcing the new vision, ready for corporate restructuring by bringing the respected banker Mr. Lersak Chuladesainto the team.
16 July 2013 – Pruksa Real Estate announces the new vision and mission "determine to become No. 1 brand for the customers" and introduces Mr. Lersak Chuladesa, former President of Government Savings Bank, to become the Vice Chairman and Executive Director to strengthen the corporate potential in tandem with the development of product quality and excellent service to answer to the needs of every group of customers who wish to own quality residence.
Mr. Thongma Vijitpongpun, Chairman and CEO, Pruksa Real Estate PCL, revealed, "In 2013, the company has set the new vision, aiming to become No. 1 brand for the customers in the residential property market and a top ten real estate brand in Asia. Pruksa determines to create superior quality residential projects for every member of the family to enjoy enchanting life every day. In addition, Pruksa also sets the new mission in line with the vision to help complete the dream of every customer by enabling them to own a quality home for a happy life.
In addition, Pruksa has created new culture and value as the guidelines to determine the behavior and "DNA" of Pruksa employees at all levels by focusing on the customers, creating home building innovations and excellent service beyond expectation to impress every group of customers in a continuous and steady manner".
"The corporate restructuring is meant to prepare the organization to better respond to the demand of every group of customers who wants to own a house. The management responsibility is clearly assigned according to the segment of residential projects to enable the management to innovate the residential products in line with the demand of each group of customers. The restructuring also boosts the flexibility in management in accordance with the ever-changing circumstances in the property market. Besides, it helps elevate Pruksa's competitive capacity in real estate segment."
"Pruksa also named Mr. Lersak Chuladesa Vice Chairman and Executive Director. Mr. Lersak is a professional manager with knowledge and experience. He has proven to be successful professional outside industry. Mr. Lersak will certainly help manage the company to strengthen the organization." Mr. Thongma added.
Mr. Lersak Chuladesa said, "I am honored and proud to be a part of Pruksa Real Estate. Over the past 20 years, Pruksa Real Estate has continuously expanded to develop the residential projects to respond to every group of customers in terms of location, quality and design. The success is a proof of the excellent capacity of the company's board, management and working team. I am ready to bring the knowledge and experience that I have gathered for more than 30 years in banking and finance as well as corporate management to strengthen the Pruksa Real Estate team to enable Pruksa to grow in real sector market. I hope that everyone who dreams to own a house will see their dream come true with better quality of living."