---
Pruksa Real Estate's Q1/2013 booking value achieves its 20-year record
14 May 2013 12:00 AM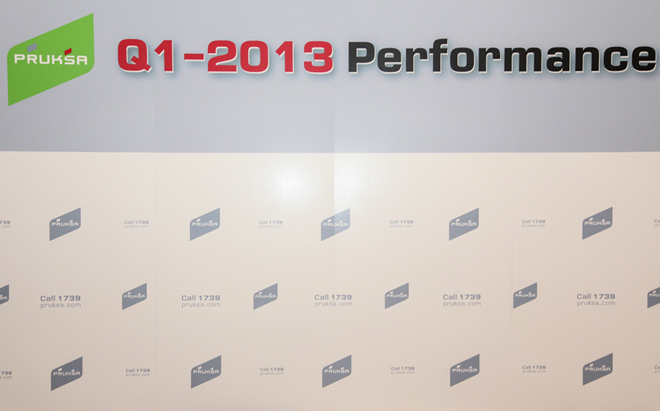 Pruksa Real Estate's Q1/2013 booking value achieves its 20-year record, generating sales of 12,329 Million Baht in the first quarter of 2013, an impressive increase of 117%
Pruksa Real Estate takes great pride in announcing its highest-ever quarterly sales performance in the first quarter of 2013. The company generated 12,329 Million Baht in sales, 6,340 Million Baht in revenue, and 773 Million Baht in net profit.
Mr. Thongma Vijitpongpun, President & Chief Executive officer Pruksa Real Estate Public Company Limited, revealed that, "During the first three months of this year, we generated 12,329 Million Baht in sales; an impressive 117% year-on-year rise from 5,669 million baht obtained in the same period last year. The company's total revenue was achieved at 6,340 Million Baht, a 36% increase from the first quarter of 2012. The Net profit was 773 Million Baht, a 22% rise compared to the same period last year. This notable performance was concluded resulting from our ability to meet all deadlines and to transfer ownerships as planned."
"For our overseas ventures, the company is acquiring a substantial new piece of land in Bangalore, India, to develop new townhouse and single-detached house projects. For our condominium project in Haiphong, Vietnam, we have now successfully registered a joint-venture company there and it has been granted the license to develop residential projects in Vietnam. For this project, we have already acquired over 70% of required land, and we expect it to be ready for reservation during Q3 of 2013.", added Mr. Thongma.
Mr. Prasert Taedullayasatit, Director & Chief Business officer, Pruksa Real Estate Public Company, stated that, "The Q1-2013 sales performance of 12,329 Million Baht is the highest in our 20-year history since the Company's inception. Sales can be divided into 39% from townhouses; 21% from single houses; and, 40% from condominiums. Such a strong performance means that we have already obtained 35% of our total 2013 sales target which is 35 Billion Baht. With a total of 78 new projects scheduled to be launched this year, we believe that Pruksa will continue to enjoy strong sales success and meet the aspired target."
"For new projects in the first quarter of 2013, we have launched a total of 19 new residential projects, valued at 22,496 Million Baht. From these 19 projects, 15 were townhouse projects and 4 were single-detached house projects. We are also confident to meet our revenue target of 34 Billion Baht because there are a total of seven condominium projects scheduled to be finished and ready for ownership transfer within this year. The seven condominium projects are Urbano Absolute Sathorn-Taksin, The Tree Bang Pho, The Seed Mingle Sathorn-SuanPhlu, Plum Condo Navamin, Condolette Light Convent, Fuse Mobius Ramkhamhaeng-Khlongton and Plum Condo Latphrao 101", added Mr. Prasert.