---
Feel the spectacular view of Chao Phraya River at "TheTree Privata"
29 April 2013 10:50 PM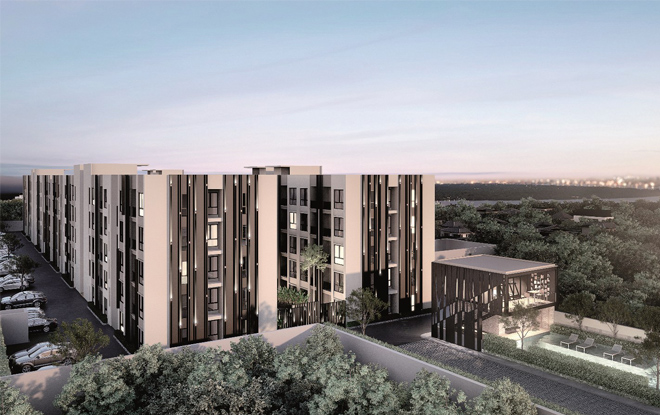 Kiakkai Intersection is the new prime area of Bangkok with more than Bt15 billion being invested to turn the neighborhood into the emerging metropolis with the new parliamentary building and new roads to turn Kiakkai Bridge into a new transportation hub of the future. The location is within the proximity of Purple and Blue Lines. Pruksa has therefore selected this new prime location to develop an affordable condo project called The Tree Privata and blended the premium condo concept in the building design. The linear lines of the building create a wise mixture with the nature with simplicity, aesthetics and charms.
The 8 residential buildings occupy six rais of land. The exclusive condo comprises of 392 units for people who want privacy and full amenities comparable to premium condo including saltwater swimming pool, Jacuzzi and a common swimming pool. The units come with usable space of 26.5 square meters and functions to serve the modern lifestyle. The bedroom features the walk-in-closet. The living area and food preparation area areseparated to reduce the cooking smell in the living area. The fanlight helps reduce the electricity use and power consumption and allows the access of spectacular view of Chao Phraya River.

The project will open for booking from May 9-12 during the Home & Condo Show at the Queen Sirikit National Convention Center at C2 Zone, Booth C196-C205, with a special price of Bt1.39 million. The customers who book the first 50 units during the event will receive Samsung Galaxy S4 with air conditioning machine, kitchen set and wallpaper. The installment payment requires only Bt900 per month. Receive the queue card for reservation from May 9 from 11.00 am onwards. For more information, please call 1739.