---
Pruksa reveals impressive 2012 performance generating 3,898 MB in net profit
28 February 2013 10:50 PM
---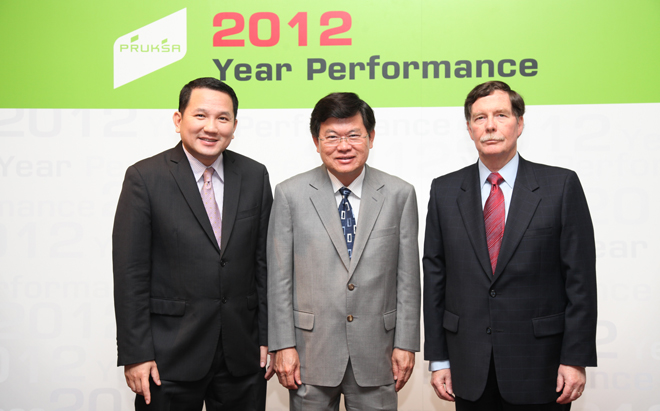 Pruksa reveals impressive 2012 performance generating 3,898 MB in net profit,
a notable 38% increase from 2011
Pruksa proudly presents its excellent 2012 performance with remarkable growth noted in terms of both revenue and profit – the highest ever achieved in the past 19 years. The company generated total revenue of 27,141 Million Baht, a 16% rise from the year before; while the net profit was closed at 3,898 Million Baht, a noteworthy increase of 38% from 2011. Also, as many as 30 exciting new projects have been launched in 2012, with a combined value of 22,191 Million Baht.

Mr. Thongma Vijitpongpun, President & Chief Executive officer, Pruksa Real Estate Public Company Limited, proudly announced that, "As far as our business performance is concerned, the year 2012 proved to be yet another milestone of success with significant growth achieved in various aspects of our businesses whether it be in Bangkok and greater Bangkok, in upcountry or even overseas markets. This has resulted in a highly successful year with total revenue of 27,141 Million Baht, which was 16% higher than in 2011 when total revenue of 23,422 Million Baht was obtained. Such an impressive growth came mainly from our success in driving domestic sales for townhouses, single detached houses and condominiums. However, it is important to note that a significant portion of revenue also came from overseas such as our detached house and townhouse projects in Bangalore, India, as well as, a condominium project in the Maldives. All in all, we managed to end the highly successful 2012 with a net profit of 3,898 Million Baht, an astounding 38% rise from 2,835 Million Baht in 2011."
"Following on this impressive performance, we are proud to announce a dividend of 0.50 Baht per share for our valued shareholders, also a rise from 0.40 Baht per share in the previous year. The company will continue to keep its dividend rate of no less than 30% of the business-specific net profit after all reserve funds have been deducted", added Mr. Thongma.
Mr. Prasert Taedullayasatit, Director & Chief Business officer, Pruksa Real Estate Public Company Limited, revealed that, "In 2012, Pruksa launched a total of 30 new projects, valued at 22,191 Million Baht in total. Of these 30 new projects, 21 were for townhouses, 5 for single detached houses, and 4 for condominiums – all of which contributed to a combined net booking of 29,396 Million Baht, a sales performance that was higher than the predicted target and a 15% increase from 25,554 Million Baht which was achieved in 2011. Such a remarkable success was a result of the company's more diversified range of residential properties on offer, covering various key aspects including location, design and function that responded to customer demands in virtually all segments."

"Looking forward, the company will continue to focus on horizontal property developments, while at the same time discover new possibilities in developing more vertical projects. Quality new projects and efficient construction management have now resulted in the company having a backlog of sales volume of 35,396 Million Baht. Of this, 25,000 Million Baht, or 73%, is due to be obtained in 2013 which will form a major part of the company's 2013 revenue target of 34,000 Million Baht – the highest such target in the industry. We are therefore confident that we will be able to meet, or even exceed, this ambitious target.", noted Mr. Prasert.
---