---
Pruka Real Estate announces the operating result in 2012 with the net profit of Bt3.898 billion or a
26 February 2013 10:50 PM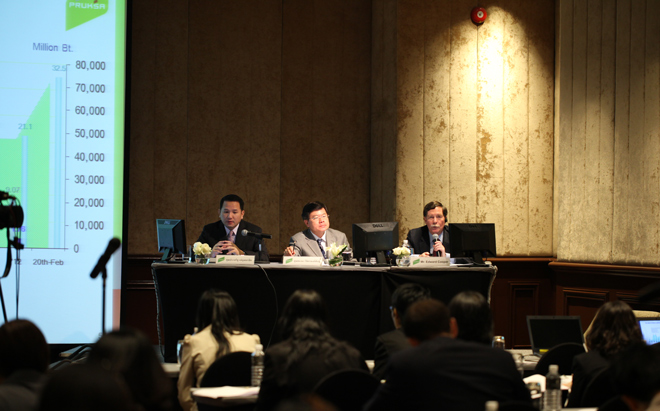 Pruksa shows an impressive performance in 2012 with revenue and profit rising at astounding level to set the new record in 19 years. The total revenue reached Bt27.141 billion, up 16%, and net profit of Bt3.898 billion, up 38% from the previous year. Pruksa plans to introduce 30 projects, worth a combined Bt22.191 billion.
Mr. Thongma Vijitpongpun, Chairman and CEO, Pruksa Real Estate PCL, revealed the operating result of Pruksa in 2012, "Pruska performance in 2012 marks another year of success. The company continued to expand the business in Bangkok and its outskirts, provinces and overseas. The company's operating result is higher than the target with the total revenue of Bt27.141 billion, a rise by 16% from Bt23.422 billion in 2011. The remarkable rise is attributed to an expanding domestic market, thanks to townhouse, detached house and condominium businesses. In addition, Pruksa has realized the income from overseas projects from the transfer of detached homes and townhouses at Bangalore, India, and the condominium project in Maldives. As a result, Pruksa achieved the net profit of Bt3.898 billion, a rise by 38% from Bt2.835 billion in the previous year."
"Thank to our outstanding performance, Pruksa resolved to pay the dividend to the shareholders at Bt0.50 per share, a rise from Bt0.40 in the previous year. The company has decided to pay annual dividend to shareholders at the rate of no less than 30 % of the profit of the separate financial statement after the deduction of capital reserves."
Mr. Prasert Taedullayasatit, Director and Chief Business Officer, Pruksa Real Estate PCL, said, "In the past year, Pruksa debuted 30 projects worth a combined Bt22.191 billion as planned, consisting of 21 townhouse projects, 5 detached house projects and 4 condominium projects with the total revenue of Bt29.396 billion as planned. It marks an increase by 15 % from Bt25.554 billion of sales revenue in 2011, thanks to the company's success in developing a wider variety of products in terms of location, design and functionality to meet the demand of every group of customers. Pruksa continues to emphasize on the horizontal residential projects and, at the same time, looks for an opportunity to develop vertical projects. Thanks to the new projects and efficient construction management capacity, Pruksa has Bt35.396 billion of backlog as of the end of 2012. Around Bt25 billion of income will be realized this year, accounting for 73% of the targeted income in 2013 of Bt34 billion, the highest of the industry. Pruksa therefore is confident that the company will achieve the targeted revenue.