---
Space changes…Perception changes
25 January 2013 10:50 PM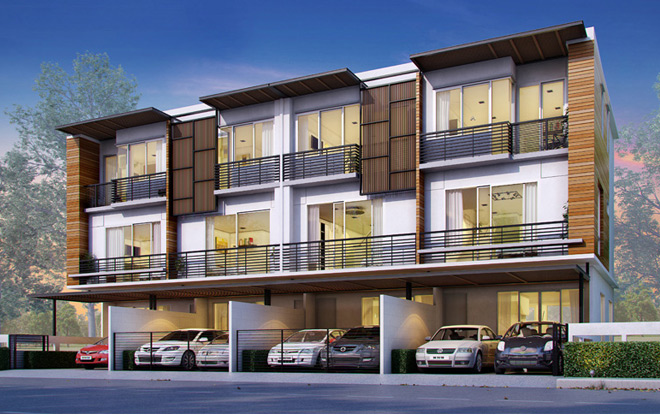 Pruksa Real Estate PCL introduces "Privet Fidelio Ratchada-Ram Intra" the 3-storey modern townhouse in loft style to answer every lifestyle with modern design and homey ambience. The warm feel is exuded by the earth tone and lines. The lathwork screens the natural sunlight at the balcony to enhance the private atmosphere. Pocket Garden in the bathroom provides new dimension to the urban living. The room is opened up to 180 degree visual with oversized glass to enhance an open space. Exquisite materials contribute to premium quality. The project features only 79 units on an area of 6 rais. The public park and 24-hour security system complete the exclusive living. The project comes in 2 styles:
SYMPHONY: 18.96 square wah, 166 square meters, 3 bedrooms, 3 bathrooms, 1 multipurpose area with flexible function, 2-car parking, walk-in-closet, master bedroom featuring balcony with an access to full view in every floor.
SONARE: 18.96 square-wah, 166 square meters, 3 bedrooms, 3 bathrooms, 2-car parking and master bedrooms on the 3rd floor, walk-in-closet with panoramic Sky Balcony for lazy days.
The project is located on the Ratchda-Ram Indra Road, which is connected to the city via many roads such as Kaset Nawamin, Nawamin, Ram Indra, Ratchada-Ram Indra, Outer Ring Road and close to the trendy department stores such as Cristal Park, Cristal Design Center, The Promenade and Fashion Island.
Make the reservation today and receive the promotions including free mortgage fee, LCD TV, air conditioning machine, waterpump, wallpaper and discount on the transfer date. The project starts at Bt3.79 million. For more information, dial 1739 or click www.pruksa.com.