---
Pruksa Online Promotion at Every Location to Bid Farewell to 2012
20 November 2012 12:00 AM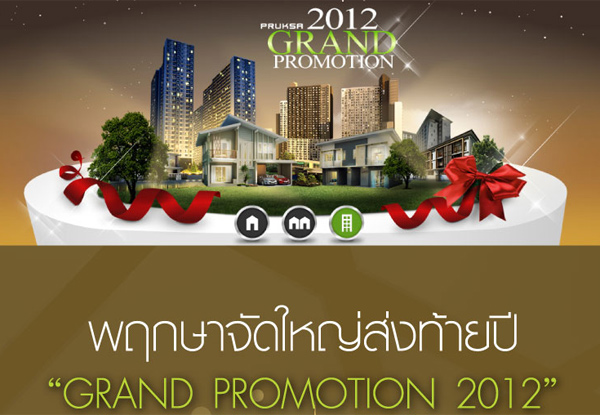 Pruksa kicks off the massive Grand Promotion 2012 by offering additional Bt10,000 discount for customers registering online and invites the customers to join"Forward" online charitable activity on facebook to contribute to charitable foundations.
Mr. Mayta Chanchamcharat, Director, Pruksa Real Estate PCL, said, "Pruksa isorganizingthe massive online marketing campaign of the year called "Pruksa Grand Promotion 2012". The customers who register at www.pruksa.com from today until 16 December 2012 will be entitled to Bt10,000 special discount on top of other promotions when they buy any of the 68 projects comprising townhouses, detached homes and condominiums. The customers will also be entitled to win iPhone 5.
Moreover, Pruksa is launching CSR online by inviting ourcustomers and the general public to participate in the charitable campaign called "Forward: Pay Back to the Society". Visit Pruksa Family Club fanpage to listen to the beautiful song titled "Forward" penned by Watchravalee and click to vote for the preferred charity foundation including CCF Foundation Under the Royal Patronage of HRH Maha Chakri Sirindhorn, Phra Dabos Foundation under the Royal Patronage of His Majesty the King and Thammarak Foundation. The charitable foundation with the highest vote each day will receive the donation from the company worth Bt1,999 daily. You are invited to vote from today until 2 December 2012.
Currently, online media has played a vital role in connecting with the customers because there is no boundary to access to information and it can be constantly updated. Pruksa has emphasized on the digital marketing strategy by using online media. Pruksa spent more than Bt10 million to develop Pruksa website to enable the customers to search for useful information and make it more convenient to provide info via Live Chat system. The customers can also select their preferred housing project and condominiums at special prices via Pruksa.com's Hot Deal system.
Regarding the social media, Pruksa has opened up the fanpage called Pruksa Family Club in May which has attracted more than 44,400 fanpages so far. The latest webs pagefrom Pruksa also received Web Award 2012 in the category of Real Estate Standard of Excellence from Web Marketing Association in the US. Pruksa is the only real estate company form Thailand which has won this prestigious award," Mr. Mayta added.