---
Pruksa's operation performance in 9 months enjoys the revenue of Bt18.777 billion with net profit.
13 November 2012 10:50 PM
---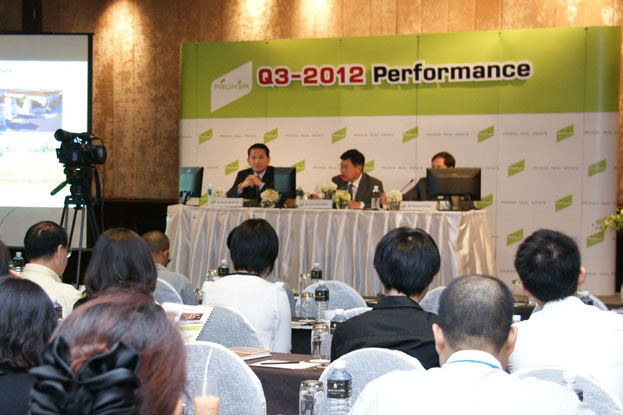 November 13, 2012 - Mr. Thongma Vijitpongpun, President and Chief Executive Officer of Pruksa Real Estate PCL, announced the company's operating performance in the third quarter of 2012, "Pruksa manages to progress and enjoy the success according to the work plans domestically and overseas. Therefore, in the first 9 months, the company achieved Bt18.777 billion revenue, a slight increase from the same period in 2011 of Bt18.722 billion. The overseas business generates more income, including Bt157 million from Silvana Bangalore, India, and the other Bt127 million from Coral Ville, Maldives . The total net profit of Bt2.636 billion saw a rise by 6.27 per cent from Bt2.48 billion in the corresponding period a year before."
Mr. Prasert Taedullayasatit, Director and Chief Business Officer of Pruksa Real Estate PCL, said in the third quarter of 2012, Pruksa recorded total sales revenue of Bt20.682 billion, 76 per cent of which came from low-rise development projects and the other 24 per cent from high-rise development projects. The sales revenue in the first 9 months totaled Bt18.668 billion with the sales backlog totaling Bt35.049 billion. Therefore, Pruksa is confident that the company will achieve sales and revenue as anticipated which are Bt26 billion and Bt29 billion respectively."
"In the first 9 months of this year, Pruksa launched 20 projects, consisting of 14 townhouse projects, 3 single-detached house projects and 3 condominiums. In the fourth quarter, the company plans to launch another 14 projects. In total, 34 projects will be launched in 2012 with the combined value of Bt24.2 billion," Mr. Prasert said.
---