---
Pruksa signs a Memorandum of Understanding with the Metropolitan Electricity Authority
29 August 2012 10:50 PM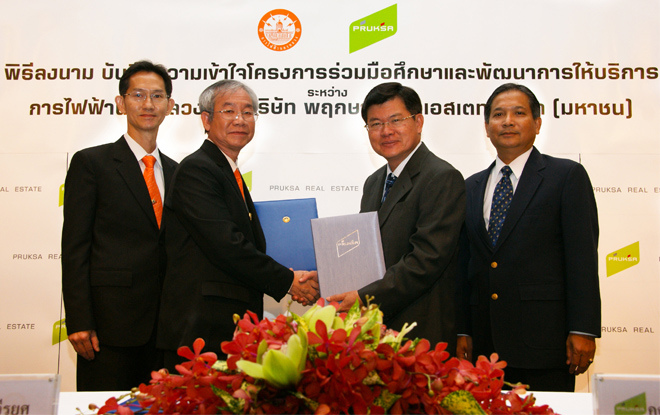 Mr. Thongma Vijitpongpun, President and Chief Executive Officer of Pruksa Real Estate PCL (second from right), signed the Memorandum of Understanding to jointly study and develop the electricity supply system service with Mr. Manop Pisesverayos, Assistant Governor, Metropolitan Electricity Authority (second from left), to streamline and develop electricity supply service in a comprehensive manner.
Mr. Thongma revealed, "Pruksa has determined to develop and streamline every step of operation to smooth the work flow and prepare for rapid business expansion. Therefore, the company signed the MoU to study and develop the service with Metropolitan Electricity Authority (MEA) which is a state enterprise responsible for distributing the power and electricity to people in Bangkok, Nonthaburi and Samut Prakan."
"The cooperation project between Pruksa and MEA is aimed at streamlining the MEA service to be comprehensive, most efficient and responsive to the customers' needs. For instance, the process to apply for an electricity meter is shortened. Pruksa's contractors have also been trained and certified by MET to install electric wiring and electricity meters. The cooperation includes the information technology system development to speed up the electronic transaction on the Web site of MET. The MoU marks a good start for the cooperation for the maximum benefit of the customers. If this project succeeds, it will contribute to an effort of all property developers to upgrade their services," Mr. Thongma said.