---
Pruksa conducts a roadshow for Bt5 billion worth of debentures to investors
17 August 2012 10:50 PM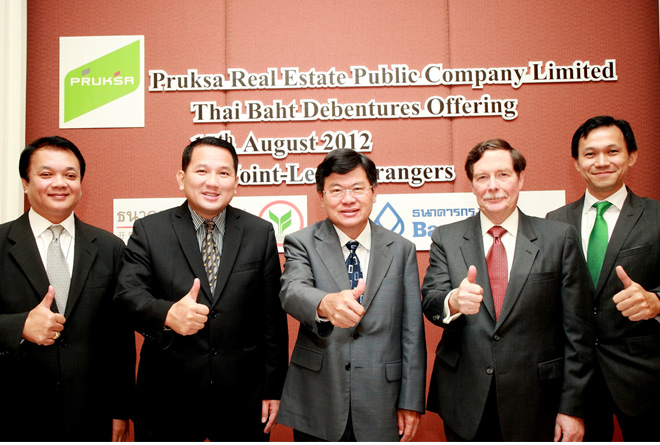 Mr.Thongma Vijitpongpun, President and Chief Executive Officer of Pruksa Real Estate PCL (center), the company's management team together with Mr. Suraphant Phuranakupt, Senior Vice President, Investment Banking, Bangkok Bank PLC (first from left), and Mr. Suradej Kiattithanakorn, an investment banker of Kasikornbank PLC (first from right) jointly made a presentation about Pruksa's corporate bonds to institutional investors.
The company offered for sales the unsecured debentures, having the maturity period of 3 years 6 months and 5 years and bearing interest payable quarterly, to the public late September 2012 via Bangkok Bank PLC's and Kasikornthai Bank PLC's branches. The sales of these debentures were aimed at repaying the short-term debt. Therefore, they would not affect the overall debt level of the company.
Pruksa debenture is an interesting investment alternative for institutional and individual investors because Pruksa is a leading property developer with solid financial stance. TRIS Rating has recently assigned "A/Stable" to Pruksa's debentures because of the company's stable business outlook.