---
Pruksa thrives in the digital age by launching the first-ever online sales in Thailand to enable the
16 July 2012 12:00 AM
---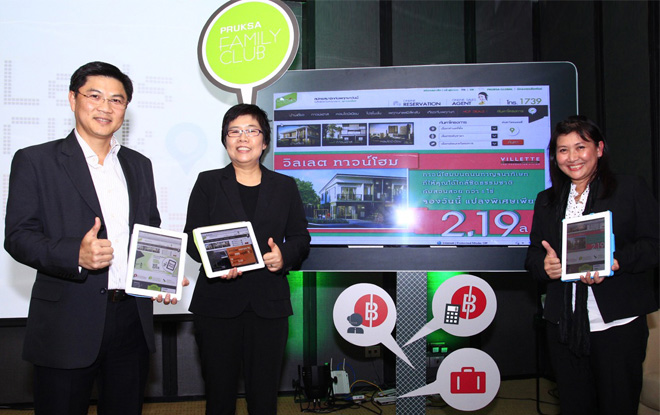 Pruksa captivates the digital-age market by revealing the new website "Pruksa.com" as part of the effort to streamline the sales strategy by providing the 24-hour "one-stop service" with the online sales staff to revolutionize the real estate business in Thailand. In anticipation of Asean Economic Community (AEC), the customers can shop, book and pay instantly via2-lauguage menu.
Mr. Thongma Vijitpongpun, Chairman and CEO, Pruksa Real Estate PCL, announced the launch of the new website "Pruksa.com". "Pruksa has streamlined the marketing and sales strategy by investing more than Bt20 million in digital marketing to develop the website, social network and internal operation to modernize Pruksa brand perception. The new "Pruksa.com" website will help strengthen marketing &sales effort and disseminate a variety of information andservices regarding residential projects. The mobile site is compatible with every model of smartphone, with easily-navigating menu such as online agent, home guru and online reservation to enable the customers to make the reservation and payment instantly.
"In the past year, Pruksa streamlined the strategy and internal operation to strengthen the organization so that Pruksa will continue to expand sustainably. One of the strategies is to introduce internet in sales activity to captivate the lifestyle of the modern generation who prefer to search for information and conduct the activitiesonline. A survey showed that although the most popular medium to disseminate the corporate information in 2011 was billboard, website has, in the first half of this year, moved up fast to become the most popular medium to disseminate the information to the customers. Pruksa therefore is confident that the digital marketing will play a more prominent role to strengthen the marketing and sales competitiveness of Pruksa. In the next couple of years, Thailand will be integrated into AEC (Asean Economic Community) and an increasing number of Asean people will travel to Thailand. It is expected that the residential market will be expanding. Therefore,"Pruksa.com" provides bilingual service in every menu to capture the opportunity so that Pruksa will continue to enjoy an advantage of being the first to start. "Pruksa.com" will be the center of information about residences, providing the first-ever one-stop service in real estate segment in Thailand, in which the customers can shop, make reservation and payment instantly," said Mr. Thongma.
To bolster the work efficiency and ensure that Pruksa is an up-to-date organization responding to the digital age, Pruksa has handed over more than 230 sets of iPhone4S smartphones to every executive to enable them to communicate and access to Business Intelligence Report to monitor the updates of sales and transfers as well as construction progress at any site and any time.
---