---
Plum Condo launches the new phase from 30 June-1 July with exciting promotional offer!
02 July 2012 10:50 PM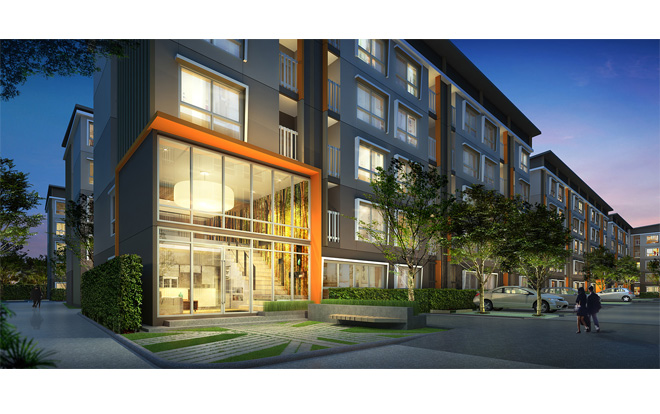 Plum Condo Ladprao 101 celebrates the launch of new phase, starting at Bt799,000 with 4 irresistible promotional offers at "Color Party" from 30 June to 1 July.
Mr. Mayta Chanchamcharat, Director and Chief Business Officer, Pruksa Real Estate PCL, said that Plum Condo Ladprao 101 celebrated the new phase from 30 June to 1 July by throwing the "Color Party". The customers are invited to participate in the fun event, make the reservation and receive 4 special promo packages according to their preferences.
"Plum Condo Ladprao 101" is designed under "Pri'O" theme which highlights the privacy by housing only 11-13 units per floor, consisting 12 buildings on an area of 8-1-71 rais. Every day is a relaxing moment with secluded sanctuary and serenity enhanced by refreshing greenery environment with trees and shrubs. Surrounded by abundant fresh air, the project is designed with perfect functionality concept, dividing into living room, bedroom, kitchen and bathroom. Fulfill the"Lof'By" lifestyle by an open space and breezy ambience, the lounging corner is equipped with Internet Wi-Fi to allow you to enjoy lazy moment every day.
"Plum Condo Ladprao 101" is located in an easily accessible location connecting to many routes including Ladprao, Nawamin, Ram Intra and Ramkhamhaeng Roads. Nestled in the community center, the project starts at Bt799,000 with the installment payment of only Bt999 per month. From 30 June-1 July, join "Color Party" and be entertained by various activities such as nail paint, fortune telling and games. Visit the mock-up units and choose any of 4 promotional offers. The first offer is 5 items of furniture: second, 7 pieces of electrical appliances: third, sliding partition at the bedroom + showering partition and fourth, special cash discount. Special for the customers who make the reservation during the event, they will be entitled to The Mall gift voucher. For more information, please call 1739 or click www.pruksa.com.