---
"Pruksa REM" wins an excellence award for house building innovation.
01 June 2012 10:50 PM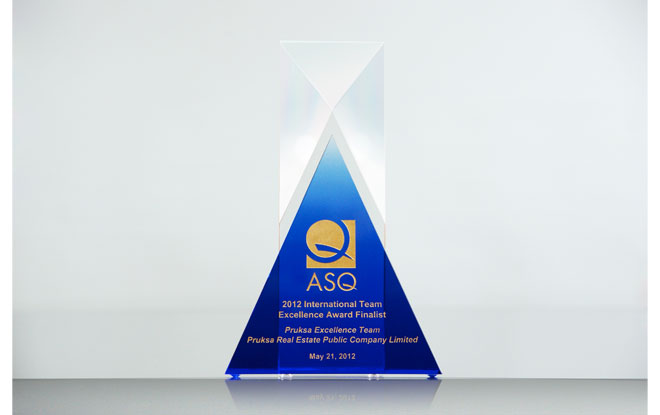 Mr. Thongma Vijitpongpun, President and Chief Executive Officer of Pruksa Real Estate PCL, said that "Pruksa: Real Estate Manufacturing (REM) Project" which is the company's latest innovation to control the quality of home building based on the production concept of continuous type has won "2012 International Team Excellence Award Finalist" and "Attendee Choice Award" from Organizational Impact from American Society for Quality (ASQ) 2012 World Conference on Quality and Improvement (WCQI) at the Anaheim Convention Center in Anaheim, California on 21 May 2012.
"Pruksa uses home-building quality control innovation and REM method in the process of construction to increase home building capacity and improve quality to the international level. Instead of following traditional construction procedure, the new innovation operates the home building process in the same fashion like automotive facility. The continuous process ensures the effectiveness with quality control in every step of production. It is the first time that REM is used in real estate sector, making Pruksa win this prestigious international award. The award represents the company's pride because Pruksa is the only property developer in Thailand that participated in the competition event." Mr. Thongma said.
American Society for Quality (ASQ) is an international organization that promotes quality improvement. The organization comprises the largest group of people passionate about quality. ASQ's 2012 World Conference on Quality and Improvement was held in the US. Only 32 teams from around the world became the finalists, including Boeing, Ford Motor, General Motor, Hewlett Packard, General Electric and The Ritz-Carlton. In South East Asia, only Housing and Development Board and Ministry of Defence of Singapore and Pruksa Real Estate from Thailand managed to reach the finalist round.