---
Pruksa joins forces with 7 leading financial institutions to kick off "Get Rich with Pruksa"
30 April 2012 12:00 AM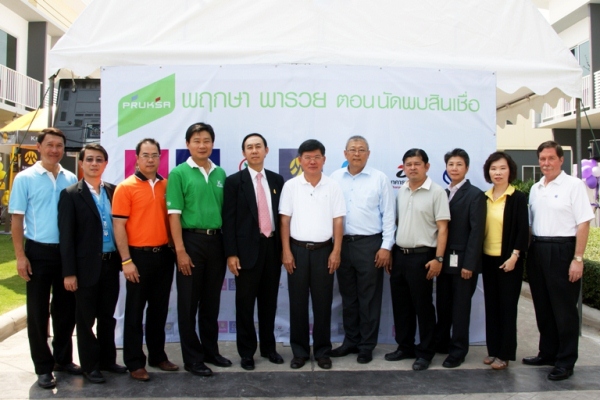 Pruksa joins forces with 7 financial institutions: Bangkok Bank, Kasikornbank, Siam Commercial Bank, Bank of Ayudhya, Thanachart Bank, Government Savings Bank and Krung Thai Bank to organize "Get Rich with Pruksa" to help trade partners and small contractors find the sources of loans to expand their businesses.
Mr. Thongma Vijitpongpun, President and Chief Executive Officer of Pruksa Real Estate PCL, said that this year the company determined to enhance the working relationships with trade partners and contractors doing business with the company, the company therefore organized "Get Rich with Pruksa" event by working with 7 leading financial institutions to help providing special loans for SME operators, namely Pruksa's contractors and trade partners. This should enable these operators to make financial plans for future business expansion and increase their capacities in line with Pruksa's growth and business expansion. "Get Rich with Pruksa" is a good start for Thailand's real estate sector in which all parties work together to bring about mutual benefit. Pruksa will be able to meet the work target by delivering quality residences to customers on time. Trade partners and contractors will not have to rely on informal lenders and they will be able to reduce the cost of funding. At the same time, financial institutions will be able to expand their businesses to reach out to quality SMEs, creating a multiple effect on Thai real estate sector and many related industries."
The first "Get Rich with Pruksa" event took place late April at The Connect 19 Chaengwattana. Seven leading financial institutions participated in the event to provide consulting services and offer special loan programs for the participants. The special loan programmes include 0 per cent interest rate for 3 months from Bank of Ayudhya, Overdraft (OD) facility from Bangkok Bank, 0.55 per cent from Governing Savings Bank, 4.5 per cent interest rate loans for SMEs to purchase machinery from Kasikornbank, no-collateral loan of up to 10 million Baht from Krung Thai Bank, working capital with no fee from Siam Commercial Bank and 0.55 per cent interest rate from Thanachart Bank. More than 250 SMEs including trade partners and contractors participated in the event.