---
Ready-to-Move-In Pruksa Ville 17. Only 5,000-Baht reservation
18 October 2011 12:00 AM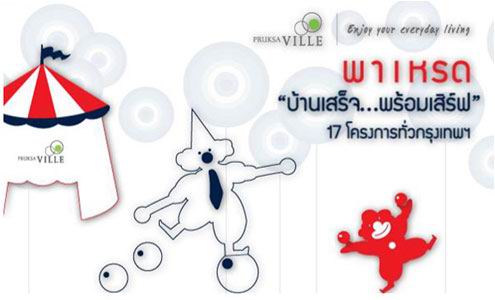 Pruksa Ville Townhome Project, showcasing diverse design concept to address different lifestyle, offers exclusive deals to the customers. The project's units cover 95-120 square meters with all functions comparable to those available in single houses, including Suite Master Bedroom. Moreover, the floor plan design provides flexible functions accommodating a space which can be modified into the fourth bedroom. The bathroom separates the wet and dry areas. The project comes in different designs for occupants to choose. "The American Cottage" is elegantly designed in classic theme to lend a luxury, spacious and warm feel according to Victorian concept. "Modern Contemporary" highlights contemporary design in tropical style to create a homey feel. "Modern American" is inspired by modern American simplicity style, perfect for urban living in which unnecessary details were left out.
Special! Pruksa Ville kicks off the campaign "ready-to-move-in" house by organizing a promotion for 17 projects in Bangkok in which the constructions are completed. They are in Bangna-Ramkhamhaeng Zone, Don Muang Zone, Rangsit Zone, Saimai Ramintra Zone, Rama II-Petchaksem Zone and Rama V-Boromrachachonnanee Zone. New promotion campaigns enable you to own a house easily. The unit with the starting price of slightly more than 1 million Baht is opened for sales. You can move in after placing only 5,000-Baht reservation fee. The project comes with a maximum discount of 500,000 Baht*. For more information, please contact 1739 or www.pruksaville.com.
*The conditions are determined by the company. They can be changed without prior notice.