---
Pruksa Real Estate targets to dominate the detached house market by launching "Delight"
20 March 2014 10:50 PM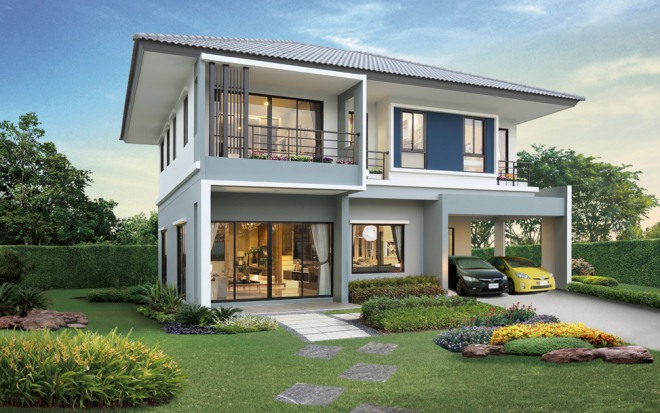 Mr. Nimit Poonsawat, Chief Business Officer, Detached House Business Unit, Pruksa Real Estate PCL, said, "The company targets to expand the detached house market by aiming at various levels of targeted groups according to the market demand both in Bangkok and provinces by presenting various brands of Pruksa. On 22-23 March, Pruksa will launch two projects with the total value of Bt1.408 billion under "Delight" brand, namely "Delight Rattanathibet-Tha-it" and "Delight Buddhamonthon-Salaya".
"Delight" is another quality brand of detached house from Pruksa Real Estate. The modern-styled home defies traditional design to create the exclusive living with new concept. Both two projects are located within the proximity of the mass transit routes. "Delight Rattanathibet-Tha-it" stands on an area of 40 rais, comprising 187 units, accessible via many routes including Ratchapruek Road and Rattanathibet Road and close to Tha-It Station, Purple Line. "Delight Buddhamonthon-Salaya" is located on 18-rai land plot, comprising 132 units, equipped with readily-available club house, accessible to main roads via many routes including Borommaratchachonnani Road, Kanchanapisek Road and future mass transit route (Light Red Line) which will serve the residents of both projects in the future.
Starting from 50 square-wah, the modern-designed home comes in three types with the usable space of 110-190 square meters. The cosmopolitan dwelling embodies free design and exudes the modern vibe. The functional interior features adjustable walls to maximize space utilization. The 180-degree panoramic view enhances the open ambience of the bedroom. Security system guards every house in the property. The project offers tremendous amenities including club house, public park and swimming pool to enable the residents to enjoy their lazy weekend with the price of Bt3 million-Bt5 million. Special for clients make the reservation from 22-23 March, receive free iPad Air for every unit. For more information, dial 1739 or click www.pruksa.com.