---
Start an independent lifestyle with "Fuse Mobius" Ramkhamhaeng-Klongtan, the fully-furnished condo
18 February 2014 4:02 PM
---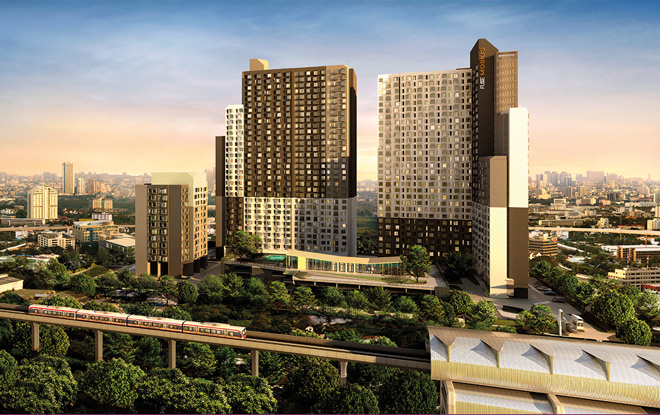 Mr. Prasert Taedullayasatit, Chief Business Officer, Condominium Business Unit, Pruksa Real Estate PCL, said, "The market of condo with the price range between Bt1 million-Bt2 million this year is expected to continuously expand. This affordable price level serves the customers with real demand who want to buy a home to reside. Pruksa Real Estate plans to gain bigger slice of market share in this market to offset the townhouse market with the price range of Bt2 million-Bt3 million and single house market priced between Bt3 million-Bt5 million. Higher construction cost makes it more difficult to develop the latter two segments.
"Fuse Mobius Condominium" is another project from Pruksa Real Estate which answers to the needs of the new generation who are looking for a residence with complete facilities to enable them to enjoy the modern lifestyle and relax in Ramkhamhaeng-Klongtan area. The ideal location makes it easy for the residents to commute. The property is close to Ramkhamhaeng Airport Link Station. The construction of the project is finished and ready for move-in. In spite of higher costs of construction and materials, the project has efficiently managed the cost to maintain the same price despite the market trend. Starting at Bt1.8 million, we are confident that it is hard to find any condo project in such a prime location with affordable price this year."
"Fuse Mobius Ramkhamhaeng-Klongtan" is a fully-furnished condo which is ready for move-in. The design pays attention to every detail of modern lifestyle beyond the boundary. The interior is practically designed with Fly Window to open onto the wider perspective. The common area includes Mobius Club House, massive ozone garden covering more than 3,200 square meters, 500-meter-long Olympic-sized saltwater swimming pool, Fit & Firm gym with full equipment, Work & Play zone and modern office equipment & Wi-Fi Internet and party corner. Security system includes audio door phone in every room and more than 250 CCTV surveillance cameras around the project."
The project is located in an easily accessible location, within the proximity of Ramkhamhaeng Airport Link Station, connecting to Phaya Thai BTS Station, enabling the residents to commute to the city center within a few minutes. Starting at Bt1.8 million, the project offers special promotion to the customers during the Valentine's month. Pay only Bt10,000 and get free contract fee and transfer expense. The project is now ready for move-in. Promotional privileges include furniture and special discount. The mock-up room with the actual view is available for visitors now at "Fuse Mobius" Ramkhamhaeng-Klongtan Project.
---