---
Pruksa re-designs "Pruksa Village" and launches four new model series of single houses.
08 March 2014 10:50 PM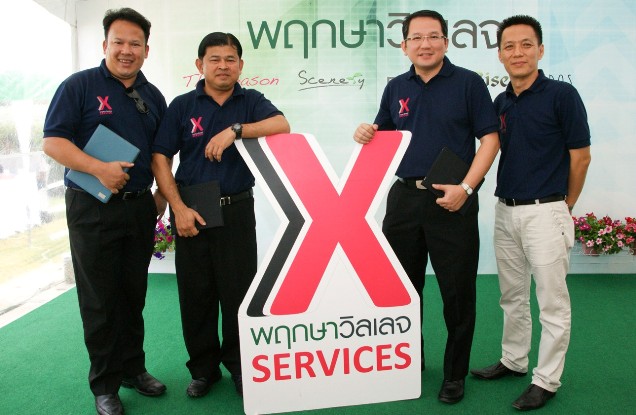 Mr. Prasert Taedulayasathit, Director and Chief Business Officer, Pruksa Real Estate PCL, said that, "Pruksa has opened "Pruksa Village" single house brand since 2005, which has been well received by the customers. To date, there are 18 "Pruksa Village" single house projects covering Bangkok and its perimeter. The company has recently re-designed Pruksa Village under the concept "Let's build the life together" to cater to the needs of all groups of customers. The designs are categorized into four series: The Season, Scenery, Delight and Rise. Each carries unique characteristics and concept. The brand focuses more on design and interior decoration to reflect the modern living and match the lifestyle of each individual group of customers. In 2011, the company plans to launch additional 6 projects covering all four series totaling 1,487 units with a combined value of 5.1 billion Baht. The company targets the presale revenue of 3.8 billion Baht. Pruksa Village will also go to provinces including Pruksa Village Scenery Mahachai-Rama II, consisting of 187 units with starting price of 4.4 million Baht.
In accordance with the company's "Yes, We Care" strategic campaign, Pruksa Village has improved the quality of products and services by providing and delivering value and exceptional quality services to the customers via X-Service (Extra-Ordinary Service) in every touch point of the project. Customers will be impressed from the first point of contact starting from purchase, transfer of rights, move-in to after-sale service and they will want to tell others of the quality service that Pruksa has offered to them," Mr. Prasert added.
Detached and attached houses under Pruksa Village 4 series consist of:
The Season – "The Season of Flower" concept is a single house with easy-going atmosphere for all seasons. It targets customers who moved from townhouse to single house or newly-married couples. The houses with limitless possibilities come in four types: Summer, Autumn, Spring and Winter.
Scenery – The house features "Tropical in Love" concept to target small-to-medium family with simple lifestyle and co-existing with nature. The house designs come in 7 types: Afforest, Finale, Meret, Pine, Botah, Mixed and Aboret.
Delight - The house design features "My confidence..my style" concept to target single customers who prefer fashionable lifestyle with exquisite taste and uniqueness. "Tropical Modern" design features detached and attached houses, namely "TMB" and "TWC".
Rise – The Rise-style home features "Raise up your life" concept to target niche market of a big family which is in the process of building life foundation for the future. The house is elegantly designed in Oriental Modern theme.
For more information, please contact Pruksa Contact Center 1739 or www.pruksa.com.