---
Pruksa Real Estate unveils 2014 business plan which targets revenue worth 40,000-42,000 Million Baht
21 January 2014 4:33 PM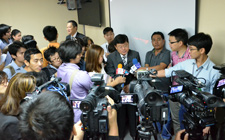 Jan 21st, 2014, Pruksa Real Estate announces its 2014 business plan, targeting 41,000-45,000 Million Baht in sales and 40,000-42,000 Million Baht in revenue. The plan includes a total of 40-50 new projects to be launched during the year with an emphasis on horizontal projects to accommodate the needs of 'Real Demand' customers. The company will also remain committed to continuous product and service development as it aims high to make 'Pruksa' the no. 1 real estate brand in the minds of customers and to lay foundation for future continuous, sustainable growth.
Mr. ThongmaVijitpongpun, Chairman of Executive Committee and Chief Executive Officer of Pruksa Real Estate Plc., revealed that, "Looking ahead into 2014, we are targeting 41,000-45,000 Million Baht in sales, which is the same level as our record-high 2013 sales performance of 41,282 Million Baht. We also anticipate to generate 40,000-42,000 Million Baht in revenue. To be in line with the company's business aspirations and expected business growth, we have invested 2,100 Million Baht in building two new precast factories in Navanakorn area which will be implemented with some of the world's most advanced precast manufacturing technologies from Germany. Every single process is computer-controlled to ensure high-quality precast materials and this means customers will benefit from construction materials that are superior in quality to conventional materials. These new factories will enable us to build as many as 1,120 residential units per month, when they are fully operating in September this year."

"We anticipate that the overall Thai real estate business in 2014 will grow within a relatively small margin of approximately 5% over last year. In 2014, the overall market value is estimated to be around 640,000 Million Baht, with continuous growth expected in major provinces and cities bordering neighboring countries. This is due to higher residential demand in these areas which are expected to boom when the ASEAN Economic Community or AEC is implemented at the end of 2015. However, in case of unforeseen negative circumstances, market growth could possibly slowdown by -2%, with Bangkok and surrounding provinces being mostly affected."
"At Pruksa Real Estate, we have in place an effective risk management plan which will minimize any negative impact on our business and facilitate sustainable growth. Our residential properties have been principally designed to appeal to Real Demand' customers or consumers in the low to mid-level segment, while only a few selected projects will be catering to the needs of the mid to high-level segment."
"Pruksa also places great importance on continuous innovation and development. We have introduced the 'Real Estate Manufacturing (REM)' system to be used in all our new horizontal projects. This system will help us achieve more efficient cost management and generate even greater customer satisfaction – all contributing to our goal of making 'Pruksa' the no. 1 brand.", noted Mr. Thongma.
Mr. Lersuk Chuladesa, Chief Operating Officer and Acting Managing Director of Pruksa Real Estate Plc., stated that, "We aim to generate 40,000-42,000 Million Baht in revenue – 80% of which is expected from horizontal projects, while another 20% is anticipated from vertical projects. At the start of 2014, we have a backlog value of 37,836 Million Baht in total – 20,786 Million Baht of which is scheduled to be acknowledged this year."

"Moreover, in 2014, we aim to launch 40-50 new projects, valued at 40,000-50,000 Million Baht in total. Of these new projects, there will be 25-29 townhouse projects, 9-12 single-detached house projects, 5-8 condominium projects, and 1 overseas project. In addition, we will also generate more revenue from our 164 existing active projects, worth approximately 59,689 Million Baht. So, we are confident that, in 2014, Pruksa will be able to maintain our outstanding product quality and service excellence – both of which will be important in helping us to achieve our goals and build on the success of the previous years.", concluded Mr. Lersuk.