---
นายทองมา วิจิตรพงศ์พันธุ์ ประธานกรรมการบริหารและกรรมการผู้จัดการใหญ่ บริษัท พฤกษา เรียลเอสเตท จำกัด
16 January 2014 4:45 PM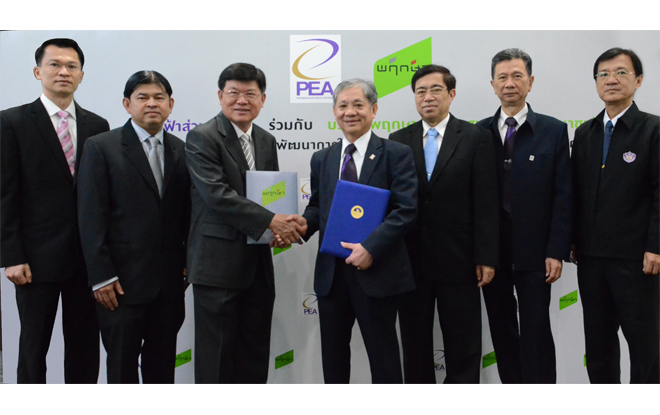 Mr. Thongma Vijitpongpun, Chairman and Chief Executive Officer, Pruksa Real Estate PCL, signed the MOU for "Cooperation Project to Develop the Service to Streamline Power Supply Request from Housing Village" with Provincial Electricity Authority Governor Mr. Namchai Lorwattanatrakul.
The MOU aims to develop the service to facilitate the request for electricity supply in Pruksa Real Estate projects comprehensively to boost the efficiency and respond to the customers' demand promptly. In addition, the effort makes the company better prepared for further expansion to provinces and the outskirts this year.
The project covers every province in addition to Bangkok, Nonthaburi and Samut Prakan under the Service Liability Agreement (SLA) which includes the establishment of Single Contact at the PEA headquarters to file the request, receive payment and participate in the design of power system for the interiors and exteriors of the project.