---
Pruksa's operating result in 2010 sees the highest rise in 17 years, making a new record.
21 February 2011 10:50 PM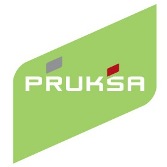 Mr. Thongma Vijitpongpun, President and Chief Executive Officer of Pruksa Real Estate PCL, revealed the operating results of the company in financial year 2010 that, "In spite of unstable business environment domestically and internationally, the company managed to achieve the outstanding performance. This is a result of continuing expansion of domestic economy and real estate market. In addition, the company has prepared the good business strategy to cope with changing circumstances. Higher operating results reflected the company's capacity to continue expanding business. Pruksa recorded the presale revenue of 38.752 billion Baht, an increase by 70 per cent from 22.774 billion Baht in 2009. The company's total income was 23.407 billion Baht, up by 23 per cent from 19.033 billion Baht in the previous year. The net profit of 3.488 billion Baht was however down by 4 per cent from 3.622 billion Baht in 2009. The lower net profit was attributed to an increase of sales and administration expenses from advertisement, public relations and market promotion activities to launch new projects. In addition, the exemption of Specific Business Tax and Transfer Fee Tax, which was supported by the government, expired in the first and second quarters in the past year respectively."
"Thanks to the above-mentioned results, the company decided to pay the dividend to shareholders at the rate of 0.50 Baht per share. Over the years, the company has paid dividends to the shareholders at the rate of no less than 30 per cent of the net profit from 2006 to present," Mr. Thongma said.
Mr. Prasert Taedulayasathit, Director and Chief Business Officer, Pruksa Real Estate PCL, revealed the company's marketing strategy in the past year that, "In 2010, the company has been successful in both low-rise and high-rise development projects by focusing on middle-income level and develop more diversified products covering all areas of Bangkok and its perimeter. The company also expands the business to provinces and overseas. To date, Pruksa has more than 20 brands both locally and overseas. In the past year, the company launched 72 projects with a combined value of 62.703 billion Baht, comprising 44 townhouse projects, 15 detached house projects, 11 condominium projects and two overseas projects. In 2010, Pruksa commanded 66.2 per cent of market share in townhouse segment, 21.1 per cent of single house market and 2.2 per cent of condo market.