---
Pruksa Real Estate debuts "Plum Condo Bangyai Station" with starting price of Bt849,000.
20 November 2013 5:28 PM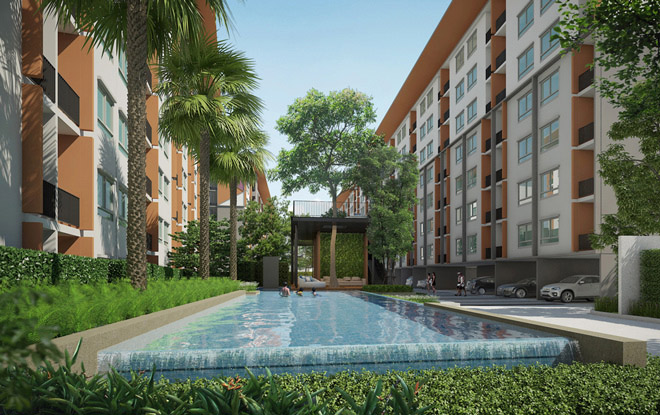 20 November 2013 – Pruksa Real Estate launches new condo "Plum Condo Bangyai Station" close toKhlong Bang Phai MRT Station, starting at Bt849,000 and presales scheduled on 23-24 November. Ready to give away the happiness during the festive season by offering the campaign "Beyond Happiness Promotion 2013". Click www.pruksa.com and receive the 3-step offer from today until 25 December 2013.
Mr. Lersak Chuladesa, Vice Chairman and Executive Director, Pruksa Real Estate PCL, said, "The company is ready to open the sales of the new condo project titled " Plum Condo Bangyai Station" worth Bt2.1 billion to continuously penetrate into the market of residential unit worth around Bt1 million. The project consists of 7 buildings, comprising 8 floors each, on an area of approximately 16 rais.
The project is divided into 2 phases. The first phase comprises 4 buildings, consisting of 1,163 units. The second phase comprises 3 buildings, consisting of 707 units. The condo comes in 2 types: 1 –bedroom unit with the usable space of 22.5 square meters, and combined unit withthe usable space of 45 square meters. The project offers tremendous amenities including club house, swimming pool, fitness, sky terrace, library and lobby with high ceiling of 5 meters. The greenery space spreads out on an area of more than 4 rais. The project stands out by its location, close to the mass transit system or only 400 meters from Klong Bang Phai MRT Station and only 1 station away from Central West Fate. The condo is surrounded by public utilities including SF Cinema, Big C Extra Bangyai, Kasemrad Hospital and Bangyai Market. Starting at Bt849,000, the project kicks off the presales on 23-24 November 2013.
To welcome the festive New Year celebration, Pruksa also organizes the online marketing campaign titled "Beyond Happiness Promotion 2013" for people who are looking for quality residences. Special discount for every brand at every location of Pruksa project is offered, including townhouses, detached houses and condos. Visit www.pruksa.com website and receive the exclusive 3-step offer: first, the special privileges such as gift voucher, air conditioning machine, kitchen set, garden accessories or special discount up to Bt1 million from 82 projects of Pruksa Real Estate: secondly, register online to receive additional Bt10,000 discount and thirdly, be entitled to win iPhone5 smart phones. Register today until 25 December. For more information, please contact Pruksa Contact Center 1739 or click www.pruksa.com.