---
Pruksa Real Estate organizes "Show & Share" to showcase product innovation and service, aiming to de
18 April 2013 10:50 PM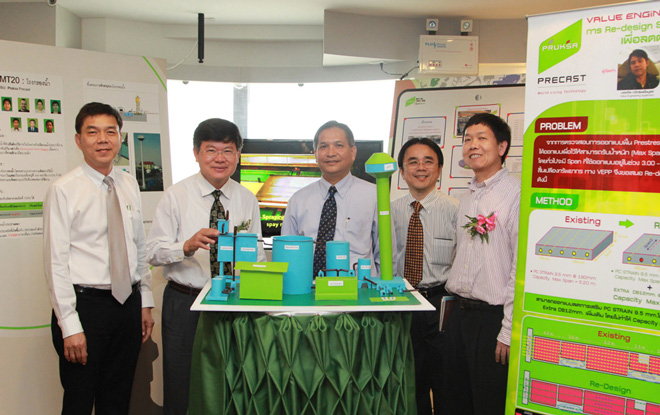 Mr. Thongma Vijitpongpun, Chairman and CEO, Pruksa Real Estate PCL, said, "Pruksa recently organized "Show & Share" exhibition to showcase the innovations by the employees and business partners in various fields to exchange the knowledge of the employees in the organization, streamlining the operation to ensure effective development in construction work and service".
The exhibition features many activities including the construction innovation, product quality improvement and services from various business units and more than 15 business partners which have worked with Pruksa to develop the products both for interiors and exteriors. The event also features special lectures from leading guest speakers who give the inspiration how to add the value chain for developing the property projects.
During the event, Dr. Watchamongkol Benjathanachart, Managing Director of Bathroom Design Co Ltd, talks about the self-sufficiency innovation strategy. Ass. Prof. Dr. Aj Sethabutr and Ass. Prof. Dr. Ratchaporn Chuchuey exchange view on the future concept house: Zero Carbon House and Extended Family Home. Mr. Thanapan Kongnantha, an executive from Ichitan Co Ltd shares 9 workable concepts how to promote the quality according to the company's policy which emphasizes on the quality both in terms of materials and construction process.
Moreover, a home design contest for college students under the concept "Universal Living Home" is organized to encourage the students to express their ideas on the new form of residential buildings for people at every age, inspiring the company to develop the new mode of dwelling in the future.
"Pruksa has organized Show & Share activity for the second consecutive year as part of the company's plan to continuously organize the event. Show & Share is an activity under Pruksa "CSR in Process" which aims to streamline the internal organization to ensure that the company will deliver residential products with quality and excellent services to the customers. Pruksa has the policy to emphasize the customers' satisfaction in tandem with "CSR After Process" that the company has carried out continuously to ensure that Pruksa will enjoy steady growth," Mr. Thongma added.