---
Pruksa hosts a free seminar "Sustainability Community 2012
05 September 2012 10:50 PM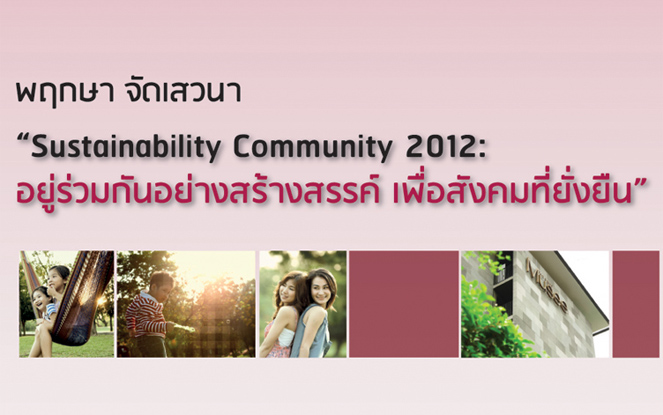 Pruksa Real Estate PCL and Architecture Faculty, Chulalongkorn University, co-organized "Sustainability Community 2012 to Promote Constructive Cohabitation for Sustainable Society" seminar free of charge on September 28 at the Stock Exchange of Thailand.
Mr.Mayta Chanchamcharat, Director and Chief Business Officer, Pruksa Real Estate PCL, said, "The company, as a leading property developer, has observed the corporate governance principle with social responsibility to ensure happy co-existence with the communities. To achieve this goal, the company has jointly organized a seminar entitled "Sustainability Community 2012" with Architecture Faculty, Chulalongkorn University, to enhance knowledge and understanding of customers and the general public about the housing estate management to provide a guideline for happy cohabitation."
"Guest speakers from various organizations attended the seminar and exchanged their perspectives how to manage the housing estate and run the community administration. The seminar was divided into 2 parts. The first part touched upon the issues relating to legal aspect, requirements and relevant information. Guest speakers during the first session were Khun Theerawat Chantrasomboon, former Deputy Secretary-General of the Consumer Protection Board, Khun Thawal Timasarn, senior official of Land Department, Khun Rangsarn Nanthakawong, Mayor, Bueng Yee Tho Sub district Municipality, Pathum Thani province. The second part of the seminar touched upon the constructive co-existence for sustainable society. Guest speakers included Khun Pikanesh Tapueng, Director of the Office of Consumer Protection Development and Planning, the Office of the Consumer Protection Board, Dr. Pipat Yodprudtikan, Director, Thai Pat Institute, Foundation for Thailand Rural Reconstruction Movement under the Royal Patronage, and representatives from housing estate projects."
"The participants will gain basic legal information about the consumer protection. In addition, the committee members of housing estate juristic person will have a better understanding about the guidelines before and after the juristic person registration and have an opportunity to exchange ideas with experts on housing estate management which will eventually benefit the members in the communities, who will co-exist in peaceful manner and sustainable happiness which is the objective of the seminar organizers," Mr.Mayta concluded.
"Sustainability Community 2012 for Constructive Cohabitation and Sustainable Society" seminar is opened to the public free of charge on Friday, September 28, 2012, from 8:00-12:00 am at Sangvien Indaravichai Auditorium, 3rd floor, the Stock Exchange of Thailand. More information is available at www.communities2012.com or Khun Yo, Promachat, Tel. 02-209 3900 ext. 3406, or email address yo_p@pruksa.com. The first 100 guests who register to attend the seminar will receive the souvenir at the event.