---
Pruksa Silvana, the first Pruksa project in India, makes the presence felt in Home Affairs Expo
25 June 2012 10:50 PM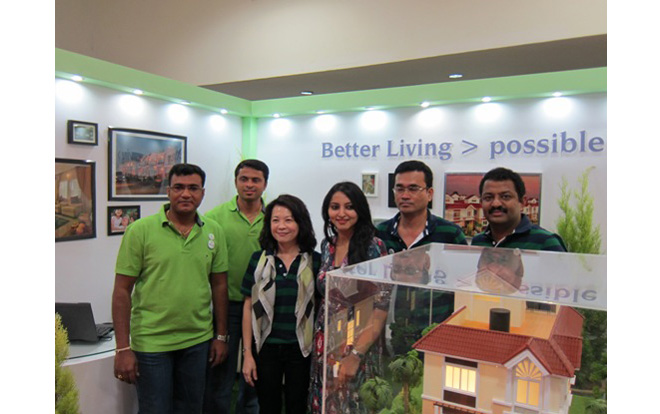 Mr. Mayta Chanchamcharat, Director and Chief Business Officer, Pruksa Real Estate PCL, said that Pruksa Silvana, the first overseas investment project by Pruksa, participated in the 8th Home Affairs Expo late May by displaying the exhibition booth. The Expo was organized by Times Property in Bangalore, India. Pruksa booth drew a lot of attention from the customers and the media, creating positive image for Pruksa and boosting sales of Pruksa project there.
"Pruksa Silvana has participated in the exhibition for the first time in India by decorating the booth with Green Living Concept and presenting other Pruksa projects to introduce itself to the visitors. Being the leading real estate developer from Thailand, Pruksa brings the unique experience and professionalism to formulate the body of knowledge in terms of management and advanced construction technology to effectively contribute to the real estate development in India. As a result, Pruksa receives a positive feedback from the customers, media and Indian real estate developers which participated in the booth exhibition."
Pruksa has expanded the business to India, starting from Bangalore under the brand "Pruksa Silvana". The project covers an area of around 65 rais, worth Bt1.657 billion, comprising 401 units. The company has currently opened the sales of the first phase,totaling 209 units. The company has so far achieved 85% of sales, comprising detached house priced at 7.2 million Indian Rupee or approximately Bt4.4 million and townhouse priced at 5 million Indian Rupee or approximately Bt3 million.